21 Jul 2008
The Green New Deal is Launched Today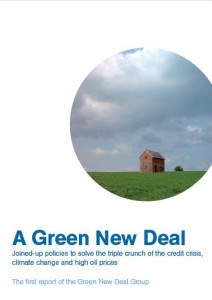 I had the privilege last week to attend a kind of think tank thing organised by Colin Hines, which preceded the release today of the Green New Deal Group's report, which I think is something that all of you involved in Transition work will find extremely useful. The Group has been meeting since early 2007, consisting of Larry Elliot, Colin Hines, Tony Juniper, Jeremy Leggett, Caroline Lucas MEP, Richard Murphy, Ann Pettifor, Charles Secrett and Andrew Simms. The opening paragraph of the report runs as follows;
"The global economy is facing a 'triple crunch'. It is a combination of a credit-fuelled financial crisis, accelerating climate change and soaring energy prices underpinned by an encroaching peak in oil production. These three overlapping events threaten to develop into a perfect storm, the like of which has not been seen since the Great Depression. To help prevent this from happening we are proposing a Green New Deal".
The report is the group's first attempt, and some areas are stronger than others, however, what I think is centrally important about this report is that it puts the global credit crisis alongside peak oil and climate change, or as Colin Hines colourfully put it (with a mental image that I struggle to get out of my mind) "the three shits hitting the fan".
The Green New Deal is modelled on Roosvelt's New Deal has 2 main strands, a major restructuring and regulation of national and international financial and taxation systems, and also a sustained programme of energy conservation, the installation of renewables and effective demand management. The plan for this is to create the conditions for the emergence of a stable post-oil, resilient, low carbon economy, and the creation of what the report terms a "carbon army" of trained workers to provide the human resources for this vast environmental reconstruction programme.
Among its key proposals are;
Executing a bold new vision for a low-carbon energy system that will include making 'every building a power station'.
Creating and training a 'carbon army' of workers to provide the human resources for a vast environmental reconstruction programme.
Establishing an Oil Legacy Fund, paid for by a windfall tax on the profits of oil and gas companies as part of a wide-ranging package of financial innovations and incentives to assemble the tens of billions of pounds that need to be spent. These would also include Local Authority green bonds, green gilts and green family savings bonds. The monies raised would help deal with the effects of climate change and smooth the transition to a low-carbon economy.
Ensuring more realistic fossil fuel prices that include the cost to the environment, and that are high enough to tackle climate change by creating economic incentives to drive efficiency and bring alternative fuels to market. This will provide funding for the Green New Deal and safety nets to those vulnerable to higher prices via rapidly rising carbon taxes and revenue from carbon trading.
Minimising corporate tax evasion by clamping down on tax havens and corporate financial reporting. A range of measures including deducting tax at source for all income paid to financial institutions in tax havens would provide much-needed sources of public finance at a time when economic contraction is reducing conventional tax receipts.
Re-regulating the domestic financial system. Inspired by reforms implemented in the 1930s, this would imply cutting interest rates across the board– including the reduction of the Bank of England's interest rate – and changes in debt-management policy to enable reductions in interest rates across all government borrowing. This is designed to help those borrowing to build a new energy and transport infrastructure. In parallel, to prevent inflation, we want to see much tighter regulation of the wider financial environment.
Breaking up the discredited financial institutions that have needed so much public money to prop them up in the latest credit crunch. Large banking and finance groups should be forcibly demerged. Retail banking should be split from both corporate finance (merchant banking) and from securities dealing. The demerged units should then be split into smaller banks. Mega banks make mega mistakes that affect us all. Instead of institutions that are 'too big to fail', we need institutions that are small enough to fail without creating problems for depositors and the wider public.
The meeting was attended by representatives of many of the leading environmental groups in the UK, Greenpeace, FOE, nef, Forum for the Future and so on, with me representing Transition Network. The discussion around the report and how to support it was fascinating. For me, this report is important for 3 reasons;
It gives a powerful framework of the larger context within which Transition Initiatives will sit
It coins a powerful concept, 'The Green New Deal'… something with the potential to engage a wide range of organisations with this work
It offers a powerful analysis of the origins and nature of the financial crisis we are facing, and pulls it together with peak oil and climate change, to provide a fascinating overview
The report is released today, and you can download the pdf for free here. It would be good to hear your thoughts once you've had a look at it… . Others have started writing about it, such as Mark Lynas, Andrew Simms and Caroline Lucas, and it appears on today's BBC News, as well as in most other papers and news services.