3 Sep 2010
An August Round-up of What's Happening out in the World of Transition (with loads of videos!)
Two months' worth of round up in quick succession… normal service will be resumed next month.  So, let's start this roundup in Europe,  with an interview with Ellen Bermann of Transition Italia, sat on a terrazza somewhere with a rather nice view (understanding Italian an advantage…).
Transition in Germany is going on well, with another successful training and a further one coming up on 9 October in Bielefeld, so if you're interested do get in touch with them. There are also lots of new registered users for their German-speaking Transition Network, as well as meetings with key players in German peak oil organisations, and increasing interest from the media as more articles appear in German publications. And congratulations to TT Bielefeld as they celebrate their first year! Thanks to Gerd for this update.  Here is a film of him giving a presentation about Transition (understanding German will help considerably.)….
Down to New Zealand and Australia, TT Invercargill will be holding a Spring Festival in September, which will bring people, organisations and businesses together that are working on sustainability and environmental issues so they can be show-cased and celebrated, so get involved if you're down that way. TTs in Northland, where unemployment rates are higher than elsewhere in New Zealand, will be holding two community-led job summits to discuss ways of creating new jobs and rebuilding local economies. This is a wonderful idea and hope it will be very successful… There are celebrations as Australia gains new TTs in Transition Yarra and TT Wallan! So if you live locally, try to get along and join. TT Cambridge is planning a World Café workshop where they'll be developing a shared vision for their community, and also form working groups for further action. They'll also be seeking commitment to become an official group in the coming months.
In the UK there's an offer to learn new skills in eco-building in return for your labour… sounds like a great opportunity to learn new useful skills. And more skills sharing as Transition Worcester organises a series of 2 hour bicycle maintenance courses throughout August and September. Portabello's TT, PEDAL, will be participating in a Community Energy Conference to speak about Community Energy Possibilities. They're well placed to talk on this subject as they've just been awarded a large grant for their community energy project. It should be a very worthwhile day. PEDAL is also celebrating Portobello's very first organic market! TT Alness is helping its local community save energy, reduce its carbon footprint and save money by offering free home energy checks. Here's a call to get Transition Shetland started, so if you're up that way then please get involved! And if you can, go to visit TT Linlithgow and join their mini Transition gathering and harvest celebration. They're very keen to meet other TTs around Scotland and share ideas and activities.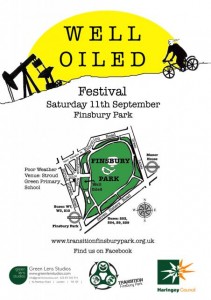 The soon-to-be-official Transition Saltash, together with Saltash Environmental Action Group, will be holding a Transition Fortnight of festivalling, freebooting (not the piracy kind) and doubtless some feasting. They were awarded a grant of £3250 by the town council for their green festival, so congratulations T Saltash! And then they'll also hold their Unleashing – very exciting – so try to get along and celebrate with them. More festivities as T Finsbury Park organises its 'Well Oiled Festival' focusing on communicating the Peak Oil message, as well as celebrating their existing relocalisation activities. TT Bellinge and Orrell have a wonderful download called '12 things you can do to move towards a lower energy lifestyle'. It's great…have a look! TT Kingston has launched its own food co-op called 'From the Ground Up', which delivers organic fruit and vegetables each week together with a selection of other goodies…right to your door. If you live close-by, then make the most of it!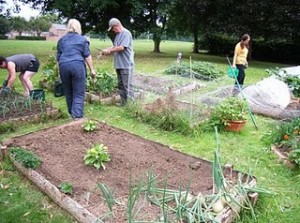 TT Louth is busily creating community food gardens (see left) and is asking anyone living locally to volunteer their time, and there are some lovely pics of a garden that's already producing food. TT Wandsworth also has a community garden, designed and created in partnership with Wandsworth Council and has just been launched. Congratulations!
Maps are wonderful things! So here is an explanation of how to make a fruit map of your town on googlemaps…fantastic! And here's one that was made earlier…Thank you TT Brixton for getting this started. And now for a little video of T Bro Gwaun's float at the recent local carnival….
TT Halesworth got people exercising on their pedal-for-your-smoothie day to help raise awareness of energy use (see right), and there's also news of their Bike Aid Scheme which distributes emergency repair kits around the town. TT Horncastle have lots of exciting events going on including a nature trail for kids and, together with Horncastle Now, a chill-out day to help raise funds for solar panels in Mali. TT Stoke Newington is also being very busy with events from bike maintenance workshops to harvesting Hackney… and here's a lovely report of an urban fruit harvesting day around London…
TT Totnes held an exhibition and consultation day on the low cost low impact Transition Homes project to explain to people all about it, answer questions, and ask for feedback on possible locations. TT Tooting together with the Energy Saving Trust is organising a free training day so you can learn how to carryout basic energy audits on home and community building. And have a look at Steph's blog to see where our flip-flop-footed wanderer has got to now and whether she could be heading your way!  She was recently spotted back in Devon, co-presenting a workshop with Rob H. at the West Country Storytelling Festival…
Across in the US, Dallas is celebrating as it becomes TT Dallas…welcome and congratulations! And here's Nils to chat to you about Transitioning Lake County in a little video he's called 'An Invitation to Imagine: part 1'…
The New Eden Collaborative and Transition Newburyport together held a Local Flavour Community Potluck Picnic, and here's a nice commentary and some lovely pics. Transition in Colarado has been the focus of an hour-long TV show on PBS in Denver for a programme entitled Transition Cities, fascinating viewing, which you can see below…
Transition Cheltenham will be hosting a local food banquet, and has also produced an on-line local food directory.  In Victoria, British Columbia, Canada, at the Victoria Region Transition initiative picnic, they built a model ecohome out of cardboard (complete with wind turbine), filmed it, and put it on YouTube….
… you can also see a great selection of photos of the picnic here.  And now to South America for a report on a well-attended weekend workshop in Chile. This is great news!  Finally, here is a repeat performance by our young American friend who closed last month's roundup with his Spongebob piece.. here is again with some 'Transition Town Floetry' filmed in a back garden somewhere….
https://www.youtube.com/watch?v=8OpMqod1FMc