3 Feb 2012
'In Transition 2.0' emerges blinking into the light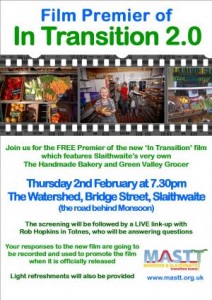 Last night saw the synchronised previewing of the new film 'In Transition 2.0' in communities around the world.  It was shown in Lewes Town Hall, The Dukes in Lancaster, at the Watershed in Slaithwaite, the town building in Wayland, US, in the office of Project Lyttelton in New Zealand, in the fire station in Moss Side, a front room in Wilkinsburg, Pennsylvania, US, a Hindu temple in Tooting, a school in Finsbury Park, a hall in Tokyo, Japan, in 'Cinema Paradiso' in Auroville, India and in a village in Portugal.  Only one screening was cancelled, in Monteveglio in Italy, where -15° temperatures and snow storms forced them to postpone.  I was at the Barn Cinema in Dartington, along with around 200 other people, to celebrate the birth of the film. 
I introduced the film by explaining how it was also being watched around the world at the same time, and then the film ran.  It was great to see it on the silver screen, and to see how the bits that moved me were different to those that had moved me when I saw it during the editing process.  It got a great reception from the audience.  After a short break, Emma Goude (the producer) and myself took questions and feedback from the audience and also that were sent in from the other screenings via Twitter.
Among the feedback that was sent in, Rowena, at the Tooting screening, tweeted "Tooting showing of @intransitionmov just finished, great spirit in the room and a hubbub of neighbours chatting. Fantastic work everyone! Xx".  Project Lyttelton in NZ, whose story closes the film, tweeted "Congratulations! It is great to know we are part of a world wide movement…".  Kaat in Wayland, who appears in the film, tweeted "Love the bits ab. inner transition, peer support.  Thank u for showing that it can fail and takes hard work. Shows maturity and confidence of the movement".
Lucy Neal in Tooting mentioned how a number of the London groups had come together for their screening: "Hurrah!@intransitionmov out in world.@ttooting launch GOOD. gt turn out & now belsizepark,brixton&tooting inpub- neighbourchat over globalfence!"  Another tweet said "Inspirational film from @InTransitionmov let's hope it generates a new surge of local activism around the world".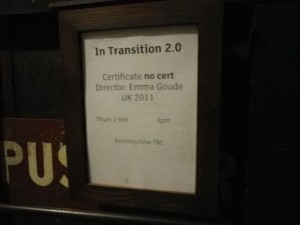 Transition Moss Side tweeted "Really great job on the film! We thought it fantastic and its inspired lots of people who came to our preview last night.", and Charles Whitehead, who attended the Tooting screening, wrote "Great after-movie atmosphere last night in pub at Tooting Bec: mix of Trans conference, wedding party & confessional".  Jo Homan in Finsbury Park tweeted that their screening had ended up with a conga!
A number of questions were sent in which Emma Goude and myself did our best to respond to, and people also gave their thoughts on the film.  This was all filmed and will be posted here soon.  Many people picked up on how they liked the sense of empowerment in the film, and how they appreciated the fact that it told some stories about how things don't always work out.  Emma spoke about the process of making the film, how it was done without anyone having to set foot on an aeroplane, and how it reflected a movement that has made huge leaps since the first one.
The evening closed with a bunch of flowers being given to everyone who was in the creative team that led to the making of the film, Emilio Mula who did the animation, Beccy Strong who did the camera work, composer Rebecca Mayes and Emma herself.  The evening finished with Rebecca Mayes singing a beautiful acoustic version of 'Turn the Lights Out', introducing it by saying that she plans to release the song as a single, and is making a video and wants people to send in short clips of themselves turning the lights out.
And then people were off out into the crisp cold night, apart from those who hung around to be filmed for some short vox pops about what they thought of the film (coming soon in an edited version, and something that, hopefully, all the other preview screenings were doing too).  Next steps for 'In Transition 2.0'?  A premiere in late March (details to follow) and a DVD release with, hopefully, a co-ordinated mass screening to come early April.  Watch this space!