8 Oct 2010
My Foreword to 'Communities, Councils and a Low Carbon Future'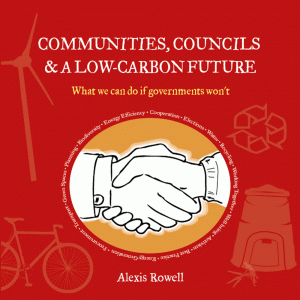 This week sees the launch of Alexis Rowell's Transition Book, "Communities, councils and carbon – what we can do if governments won't", which will be available here at Transition Culture from early next week.  It's a blood, sweat and tears account of life as an elected eco warrior trying to encourage local government to work with communities to make the world a greener place, packed with great case studies and tips for Transition initiatives and Councils alike.   The book is being launched next week, at 7pm on Wednesday 13th October at Caponata, 3-7 Delancy Street, Camden Town (www.caponatacamden.co.uk) and speakers include: the Home Office Minister, Lynne Featherstone MP; the Chair of the Transition Network and Director of Sustrans, Pete Lipman; Author and Co-Founder of Transition Belsize, John-Paul Flintoff; and the Deputy Leader of the Local Government Association, Richard Kemp. The event is open to all interested Transitioners, although you'll need to contact Stacey at Green Books (stacey (at) greenbooks.co.uk) for an invite.  In the meantime, and to whet your appetite,  here is my foreword for the book.  Congratulations to Alexis on the publication of this landmark publication…
"In late July 2008, the Transition Network office had a phone call from Somerset to tell us that the previous night Somerset County Council (SCC) had passed a remarkable resolution pledging its support to its local Transition Initiatives. It acknowledged the work of Transition Initiatives in Somerset, subscribed the  Council to supporting the ethos of Transition, committed the Council to offering 'support and assistance' to those Initiatives, and committed SCC to becoming the 'first Transition Local Authority in the UK'. The caller asked, in the light of the resolution, whether we could tell them what a 'Transition Local Authority' actually is. We said we had no idea, but that we would be fascinated to explore it with them.
As Alexis points out so ably in this book, there are countless examples around Britain of councils taking bold and practical steps in response to climate change.  Councils such as Woking and Kirklees have gone way beyond what is demanded by central government and shown bold leadership, making carbon reduction central to their policymaking. Some are taking inspirational initiatives in terms of energy efficiency in buildings, others are promoting cycling, and some are starting to give urban food production the importance it deserves. Yet there is not, as yet, anything that might actually be confidently termed 'A Transition Local Authority' – no one authority that has begun to base all of its activities on climate change and peak oil, and on the need to strengthen local economies – although a resolution such as Somerset's is clearly a promising start.
From an early stage in the evolution of the Transition approach, we made it clear to anyone who asked that Transition is a process that 'local councils support but don't drive'. Our intention was to stress the point that Transition is intended to be a grassroots-led process that communities themselves feel in charge of, and this has been one of the keys to the viral spread of the Transition concept. More recently, however, the discussion has moved on to what would happen if a community embracing the Transition approach, and vibrantly initiating a wide range of projects, engaged meaningfully with a local authority that has likewise begun to base its thinking and policymaking on responding to peak oil and climate change, and is seeking to make the area more resilient. What would it look like? That is one of the key questions addressed by this book. And what matters, as this book demonstrates, is that there are many people out there actually working to answer this question.
Much is said these days, especially as part of the new government's 'Big Society' agenda, about the concept of 'localism'. Localism, David Cameron's big idea, is the concept that political power needs to be returned to the local level, that government needs to be smaller and less omnipresent, and that any power that can be devolved to the community level is actually devolved. 
Transition goes beyond this, to focus on localisation.  Localisation is the idea that we try to shorten the distances between production and consumption as much as possible; that we strengthen local economies by striving to meet their needs from their local area.  This is a key aspect of making communities more resilient to volatile oil prices and potential interruptions to supply, as important as actually reducing our carbon emissions sufficiently – and in the current economic climate, I would argue, makes it more likely that communities will be able to weather future economic storms. Michael Shuman1 describes localisation thus:
". . . it means nurturing locally owned businesses which use local resources sustainably, employ local workers at decent wages and serve primarily local consumers. It means becoming more self-sufficient, and less dependent on imports. Control moves from the boardrooms of distant corporations and back to the community where it belongs."
Government commitment to localism evokes cynicism in some. Lancaster City Councillor John Whitelegg told me in an interview that he is suspicious of politicians who use the term localism. "Britain is grossly overcentralised and I think that whenever a national politician starts talking about 'localism' their nose starts going into Pinnochio mode". However, the current focus on all things local offers a dynamic context for discussing many of the concepts and proposed projects that emerge from Transition Initiatives.
Alongside the work that some of our more innovative local authorities are doing, there is also some great work emerging from Transition Initiatives, as well as from the relationships that they are forming with their local councils. In May 2010 I went to the 'Unleashing' of Transition Malvern Hills. It was an amazing event.  The group had taken a huge gamble and had booked the largest venue in the town, the local theatre, which seats over 400 people. With a week to go they had sold 100 tickets, and they were starting to sweat. In the end, the event was a sell-out, and a remarkable evening, with three choirs, a range of speakers and a palpable buzz of excitement and of possibility.
The highlight for me, though, was a section called 'Transition Endorsements'. Transition Malvern Hills' Will Tooby invited on to the stage 11 people representing key local organisations, who were invited to give a very short endorsement of Transition, or a reflection on the event. It was a dazzling assembly of the town's movers and shakers. The speakers included the leader of the local council, the principal of the local college, the Assistant Director of the local NHS Trust, the local police inspector, the head of the local Area of Outstanding Natural Beauty (AONB) and the newly elected MP for the area, Harriet Baldwin.
The County Councillor spoke of how Transition Malvern Hills (TMH) had supported their work in changing their catering arrangement: their food is now "not only edible, but it is all local!" Dave Armitage of the AONB, which has been supporting TMH's work, spoke of TMH's "great foresight and great energy", and urged the audience to "give them some of your energy and some of your time". The depth of support shown from such a diversity of key local organisations bodes very well for TMH's future, and Harriet Baldwin offered her support to the Initiative in whichever way she could help. This was a very strong foundation on which to build a well-linked and effective Transition Initiative.
Some councils are now starting to see the work of Transition Initiatives as representing a level of engagement with a potential that needs to be harnessed rather than brushed aside. Some Initiatives are working with their councils on very specific projects, and some are being supported with meeting-room space, grants, the support of council staff and so on. 
Alexis Rowell came to Transition quite early in its emergence, and saw its potential from an early stage.  He noted that Transition Initiatives needed to form meaningful relationships with local authorities and, in addition, needed people involved in Transition to put themselves forward for election. Alexis himself is a great example of the potential of doing so. What he managed to push through and to change within the Camden Council during his time as a councillor is quite extraordinary. The experience he draws on from that time, as described in this book, are rich from the blood, sweat and tears he poured into this work. I can think of no one better than Alexis to draw together the many strands of the debates and discussions about how local authorities and Transition Initiatives can and do work together.
Interest in Transition from local councils continues to grow as the dynamism and visible impacts of Transition Initiatives similarly expands. I think that in many ways the work of Transition Initiatives is breaking new ground, asking questions that local authorities still struggle to address, and working with a freedom to experiment and to take risks that is rare in our current highly risk-averse culture. As the urgency to deal with climate change and peak oil becomes more widely understood, and as the realisation grows that a more resilient future lies not in the far-flung sourcing of globalisation but in the reskilling and revaluing of local economies, it can't be too long before genuinely Transition local authorities start to emerge. The inspiration for their work, and the tools they utilise, will owe a great deal to this book, which makes a very welcome new addition to the Transition literature.
Rob Hopkins, September 2010