2 Sep 2010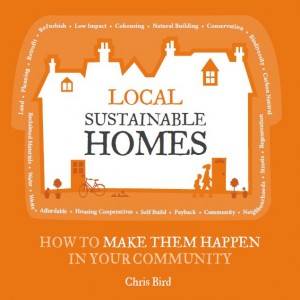 In advance of the publication next week of Chris Bird's Transition Book 'Local Sustainable Homes', I spoke to Chris about the book, and about what he set out to achieve in writing it.  The book will be available to order here at Transition Culture from next Thursday (the 9th).
So Chris, how does 'Local Sustainable Homes' differ from all the other green building books out there?
You could fill a bookshop with volumes on green building. There are so many works on sustainable design and construction and green materials that choosing what to read has become almost as difficult as deciding which spectacle frames to wear! But this book is different because it concentrates on how individuals, groups and communities are making it happen. Okay, I admit that in places the book does drift into looking at materials and construction methods but the bread and butter of the text deals with examples from around the country of how people are making sustainable homes a concrete reality – but without the concrete!